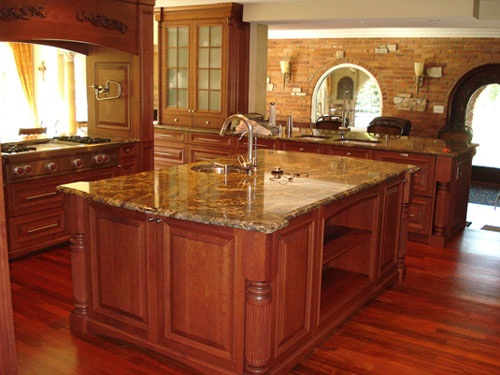 Marble Countertops
Marble building products are processed from blocks that are quarried all over the world. This metamorphic rock is comprised primarily of calcium carbonate and other minerals that create a wide variety of colors. Marble is commonly used for countertops, floor tiles, wall tiles, vanities and other surfaces, fireplaces, columns, balustrades, water tables, steps, thresholds, and windowsills.
Granite Countertops
The term "granite" is used to cover a group of related stones, all of which have their origin deep in the earth's molten mantle. As this extremely hot liquid material rises and cools, it forms a crystalline, granular structure, hence the term granite. Granite and other granite-like stones are formed of very hard minerals, such as quartz, feldspar, and mica, which are fused together into a very hard stone. It's ideal for kitchen countertops, because its polish is resistant to household acids, such as citrus and vinegar, and it's hard enough to resist scratching from knives, pots, and pans.
Granite is commonly used for granite countertops (especially kitchen countertops), floor tiles, wall tiles, other surfaces such as fireplaces, columns, balustrades, water tables, steps, thresholds, and windowsills. It's much harder then marble and can be used for practically anything at your home or business.
Today's designers choose granite as the premiere custom countertop material. Every home, kitchen, or bath magazine features natural granite over other plastic or artificial products. And thanks to our improved fabrication processes, natural granite is also priced competitively with other solid surface alternatives. Contact us to find out how granite countertops and natural granite in general can enhance your home!
Contact us today for all of your custom home needs.